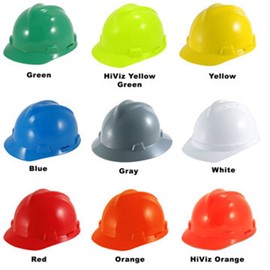 Why Do Safety Helmets Have Colour Codes?
Safety helmets are one of the major protective equipment used across various industries especially in construction industries. They are commonly made with high density Polyethylene which has high impact resistance. Safety helmets protect the head, eyes and neck of workers from impacts, scrapes, bumps, shock, falling debris and weather. For certain work especially work carried out in construction site and factories wearing safety helmets is a necessity. Workers in such industries are exposed to dangers and risk every day.
Safety helmets used should be of high standards and high grade. They should have good resistance for shock absorption and protect workers from all kinds of injuries. They should also be resistant to electricity, heat and flame. OKI Bering, industrial tools suppliers in UAE provides numerous tools and equipments used across different type of industries. We can proudly say that we offer the best safety helmet in UAE. We are also the number one distributors of welding supplies in UAE.
Safety helmets are usually available in different colours. Different coloured helmets are assigned to different category of workers. Colour coded safety helmets have several advantages.
Identifying
Colour coded helmets helps to identify workers easily. They help in recognizing workers and the task they are assigned to do. For instance if you want to find labourers in a building site, you can identify them easily from the yellow coloured helmets worn by them.
Avoiding accidents
When dangerous work is carried out in a particular area sometimes it becomes difficult to spot people from a height or from a long distance. Coloured helmets are easily noticeable. Colour coded safety helmets helps in spotting workers from far away thereby helping in avoiding accidents.
Smooth and proper functioning of work activities
Safety helmets with different colours also assists in the smooth functioning of work. Each and everyone in a work area can easily know who are working on what particular tasks.
Colour coded safety helmets are given to employees based on the type of work and designation. Below are some of the normally assigned colour coded helmets to different category of workers.
Yellow – Worn by labourers and heavy equipment/machinery operators
Orange - Site visitors, road constructions workers, signallers and sometimes new workers
White – Architects, engineers, managers, supervisors
Blue – Technical workers, electrical workers, carpenters
Apart from the above colours, safety helmets are also available in many other different colours like green, black, grey etc. Different companies can assign different colour codes for different jobs.
Quality
While purchasing safety helmets always check its quality. Also purchase helmets of right size. Helmets which do not have proper size and which are without adjustable headbands do not serve its purpose. Such helmets will cause irritation and discomfort to its users. Improper fitting will not give proper impact resistance and ventilation.
Maintenance
In order to ensure that helmets are durable and effective its maintenance is vital. Since safety helmets are exposed to various elements they have to be regularly checked and cleaned. Different components of the helmet must be examined. If you notice any crack or holes you have to take steps for replacing such helmets. Helmets which are frequently exposed to extreme heat, light and chemicals can get damaged easily. It is also important not to make any changes on the safety helmets. Avoid any painting, writing or labelling on safety helmets.
For purchasing standard grade safety helmet in UAE get in touch with OKI Bering, the finest industrial tools suppliers in UAE.